Winter Update
on
December 12, 2013
at
11:48 am
Welcome back for another spine tingling Shiver Bureau update.
First off, let me just say I am now an honest man.  Yep, that's right, I'm married!  The deed was done back in October and it was and is awesome!  Here my wonderful wife and I try to mimic the smiles on our cake toppers.  I actually made those cake toppers myself.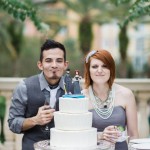 Actually they are one of the many reasons I am behind schedule now.  I never worked with clay before, so I did several learning/failed attempts.  I am really happy how they came out though and glad we have something original we can keep forever, but holy cow they took me forever!
The other general wedding prep was a lot more time consuming then I thought.  Well worth all the effort though.  Of course then we came back home to a slew of house fixing, I won't bore you with the details, but it ate up a fair bit of time and money.
But fear not, I am not too far behind schedule and I am about to start my holiday vacation which will last almost 3 weeks.  It is going to be awesome.  I will be drawing a lot during that time.  Though there is a caveat…my entire family is coming into town for 2 weeks of that, but they will just have to be happy with watching me draw 🙂
Now for the progress…
I have finished penciling up to chapter 6.  Just one more chapter to go!  That's right, just another short 20 pages and I will be done penciling.  That's the hard part.  Inking will take a little time because I am sure I will redraw some stuff, but it should be much quicker then pencils.  Then it is just colors and letters and that should fly.
So we are getting close, just another 4 months and the story continues!