OpUp-September
on
September 9, 2013
at
6:39 am
Hello once again from the Operation Update HQ.  I will try to get in a new update every month if there is something fun to report and show off some pages.
This month has a lot of news.  Let's start with the status of Shiver Bureau.  The pencils for chapter 3 are completely finished and I am about half way through chapter 4.  There are 7 chapters.  I am on track to finish penciling all chapters before the end of the year.  Which means the relaunch of SB will be around March of next year.  I am getting married in October, but I've planned accordingly so it shouldn't affect the timeline.  I've had a really good pace and I've been penciling much quicker then I expected, so if I finish sooner, I will post sooner.  I know it sucks for you guys to have to wait for me to finish the entire book before I post, but if it is any incentive I am having way more fun and enjoying the process much more.  I think it will show in the finished product.  Here is Chapter 3, page 1 in finished pencils.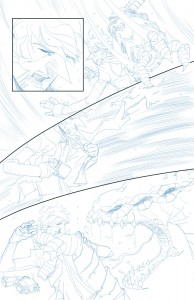 In Webcomic news, I ran across this comic call All Night.  If you dig the genre of Shiver Bureau, you will dig All Night.  I think Pickle and All Night's main character, Clarence, would make a cool team-up.  I like the comic so much, I had to draw a quick SB/AN piece.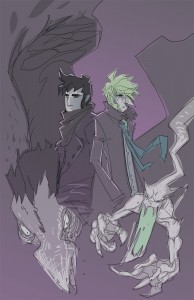 And finally some SB fan art.  I can't tell you how much this makes me feel like a slacker and lights a fire under my behind.  SB has been off air for since the start of this year and I still get messages, donations, and now Arts from people who still support SB.  That is really just too awesome.  The creator of these pieces is Timmy and I can't thank him enough.  I also like the artistic choices he made with the characters to make them his own.  Looks like the piece is from an alternate dimension where Pickle never had a run in with an elephant.  If anyone gets that reference I will draw a single character digital sketch for the first person to post in the comments.  Check out Timmy's webcomic Streets of Galsha.
Speaking of fan arts, here is a pinup I did for my buddy, Lee.  It is for his Sci-fi, horror, survival comic Tangled Weeds.  You can read the first issue for free here.
I think that is it for round.  Next time I post I will be a married man.